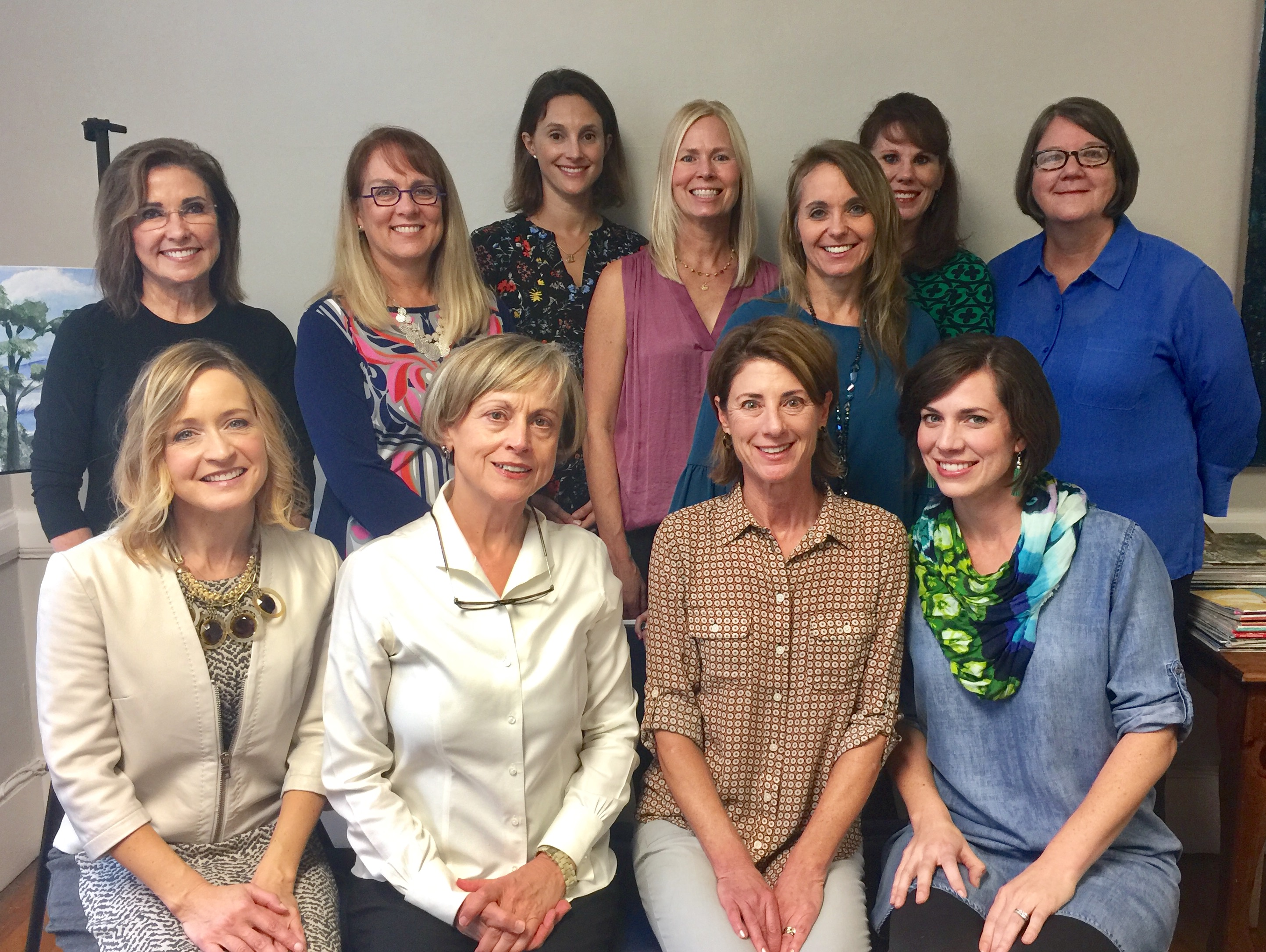 2017 Board of Directors

Kathryn Norwood, Sonya Brooks, Kate Cramer, Jennifer Farish, Leanne Jaskwhich (not pictured), Landra Jennings, Grace Pouch, Jane Price, Ashley Reynolds, Amy Sutherland and Marsha Wallace. The two advisors to the first Board were Beth Messick, representing Triune Mercy Center, and Frances Poe (not pictured), representing Christ Church.
Founders Story
Jasmine Road is the result of a community coming together in loving support of marginalized women in their midst. Founding partners Christ Church Episcopal and Triune Mercy Center, along with healthcare partner Bon Secours St. Francis, seeded the project. Many different people, from all walks of life, contributed time, talent and money. And two individuals, with the humility and wisdom to recognize they couldn't do it on their own, shepherded the effort to success.

Beth Messick had a career in social services and community support, as well as a passionate empathy for women survivors of trauma. A survivor of childhood trauma herself, and led by her strong faith, Messick had been doing informal outreach in areas of known prostitution in Greenville in an attempt at better understanding how women become trapped in a life on the streets. She had also begun working with women in the Greenville County Detention Center, trying to find safe places for them upon their release from jail or completion of rehabilitation programs.

Kathryn Norwood had significant fundraising experience and an ability to galvanize community support for her efforts. Though she had completed several major community improvement projects, she had long been looking for an opportunity to effectively connect disadvantaged people with much-needed resources and to work in the area of social enterprise.

In October, 2015, Kathryn heard Becca Stevens speak about Thistle Farms at Christ Church Episcopal and was inspired by the concept. Shortly after, in February 2016, a large group from both Christ Church Episcopal and Triune Mercy Center attended a two-day workshop at Thistle Farms. The group was so motivated by what Thistle Farms was doing, events progressed rapidly after that. By November of that same year, Jasmine Road was incorporated in Greenville and by December, with the help of Christ Church, the first house was secured. During 2017, the new board created a strategic plan and worked hard to raise the funds necessary to operate as an agency. By March 2018, Jasmine Road was able to hire Beth Messick as Executive Director. And on May 29, 2018, Jasmine Road opened its doors to the first residents.

With the thoughtful and caring leadership of Kathryn and Beth, and through the herculean efforts of a significant number of other volunteers, community partners, donors and service providers, Jasmine Road had become a reality.